Before founding his brand, Sam Strauss-Malcolm worked for a handful of internationally acclaimed brands, both in-house and as a consultant. Here he talks about his history and the vision for S-M.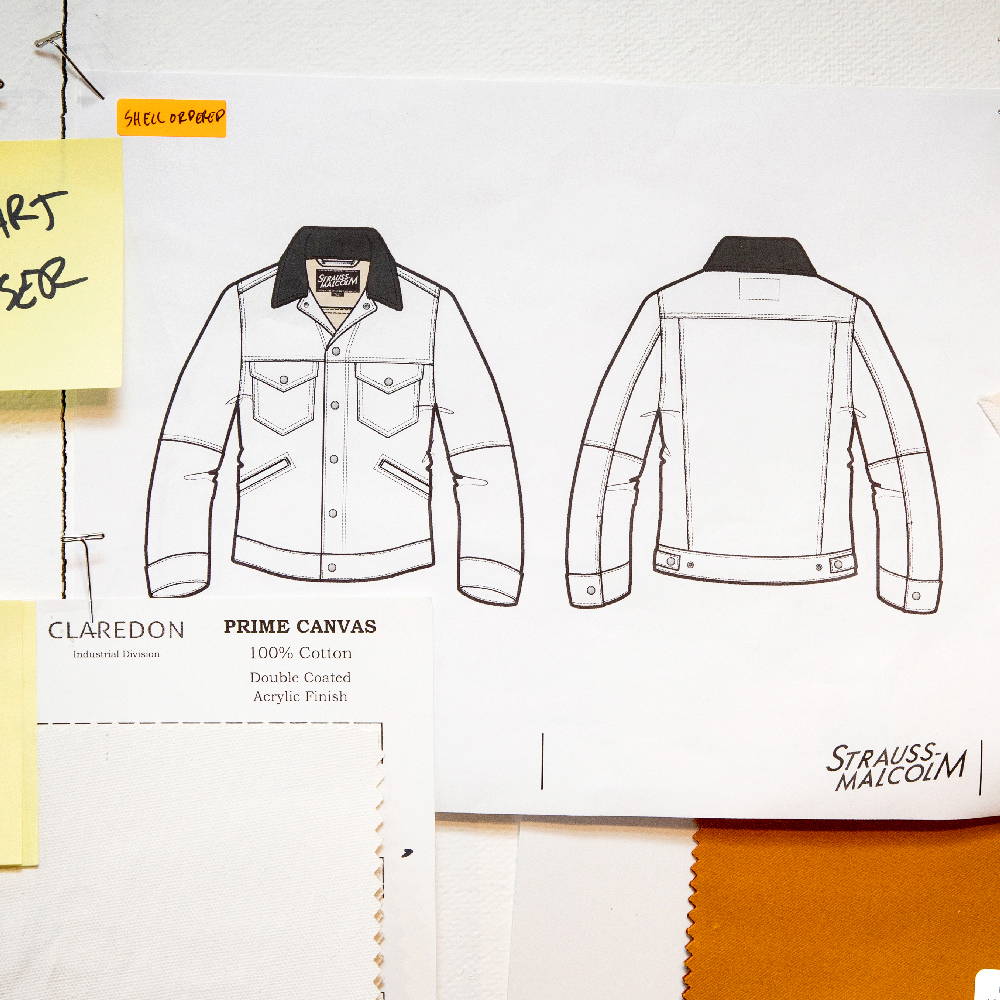 What started your interest in design?
Growing up I was a very picky kid when it came to my clothes. My mom would take me to the mall for shopping and we'd always leave with nothing to show for hours spent shopping. When I was 14 years old I had one of these unsuccessful shopping days. On the way home my mom stopped off at a used sewing machine store and bought me an old Singer sewing machine. She told me to start making what I wanted to wear. Within a month I had made my first pair of pants.
From then I was sewing all the time. I never drew or designed anything. I would just sit with fabric and start to make something from my mind's eye. It wasn't clear to me that designing before sewing was important. I learned that later on.
How did your self-teaching affect your career later on?
After high school, I went to Central Saint Martins college in London where I learned concept-driven design principals in a very freestyle curriculum. This creatively planted me into thinking deeper about the why of designing. After graduating I spent a year freelancing in the UK and China. Upon my return to the US, I got a job at Ralph Lauren. In the beginning, I had very little idea what commercial fashion involved. Going from a free thinking atelier-style European training to a corporate global brand, was a shock. However, with time I gained the ability to express my ideas fully flushed out and navigate the corporate system. By the time I left, I had worked on 4 of the then 7 brands under the Ralph Lauren name. This experience was my master's degree.
When did you settle on outerwear as your focus?
From the beginning of my career, I was obsessed with outerwear as the final and most important part of a man's style. It's the last thing you put on and the first thing someone notices. This gives the category the importance of defining a look. Images of important moments in history and culture are often memorable by the outerwear worn. For instance, Michael Jackson in Thriller with his red leather jacket, or Winston Churchill in his heavy topcoat reviewing troops during WWII. Outerwear has a way of defining a period in history and a person's character at that moment.
Outerwear also requires a level of functionality. There are many ways to achieve this, but I think of good outerwear as life armor. Protection from the elements and also protection from day to day life stresses. The combination of designing something iconic and also functional is a problem I never get bored with.
Sustainability is a key part of the S-M brand, why?
I define sustainability as a holistic perspective on product creation. It's important to take into consideration the life-cycle and production processes in each product. My struggle in starting a brand has been the need to create and the dual guilt about making more products in an overfilled world. The way I've solved this, for myself, is to focus on using deadstock and other surplus or "waste" products. By doing this the brand upcycles materials and is not relying on new fabrics and the carbon footprint which production of those new fabric entails.
By limiting the brand to upcycling and deadstock we won't be able to produce as many products or potentially meet our customer's demand. I'm ok with this trade-off because it is a net win for the planet. For me, this is obviously more important than a few customers.
How does using deadstock inform your designs?
Usually, the designs come from available materials, not the other way around. It's like going to the supermarket hungry, but not knowing what you're going to cook. Once you get to the fruits and vegetable section you see what's ripe and in season. Only then do you develop your recipe and meal plan.
Your pieces include Truism labels. Why add this extra element?
Besides being a designer, I am a community builder. I founded and built a neighborhood co-working space in Crown Heights, Brooklyn. I'm passionate about making personal connections with my neighbors and fostering community. The Truism labels are my way of connecting more personally with the people who wear my designs. I see the labels as positive affirmations from me to each person wearing a Strauss-Malcolm piece. There are currently 35 different Truisms which I ask our factories to randomize before adding them to each garment.
My hope is these labels will prompt their owner's to start a conversation with their community of neighbors and friends. In this way building stronger communities.
Besides your brand, you also consult. Does one affect the other?
Consulting on other brands and products satisfies a whole different part of my brain. Strauss-Malcolm is where I focus on what I want with little restriction. I find solutions which are most relevant to me and my customers. Consulting allows me to work on other companies problems and the solutions for their customers. Working for others allows me to stretch into other products and categories as well. I've designed for clients in a variety of categories, such as fitness, ski, outdoor adventure, meditation/mindfulness, runway collections, motorcycle, and security protection. Problem-solving in this variety of categories reflects back on Strauss-Malcolm and moves me and the brand forward.
What are your hopes for the brand over the next few years?
I think it's the job of newer brands to push the industry forward. I'm excited to see how far I can take the use of upcycled and deadstock materials. There is a whole shadow ecosystem of recycling and upcycling which I think is just coming into focus for fashion. I think we can do more with what we already have and I'm excited to be a part of that change.