LIMITED EDITION AND crowd-choice items
Some of our products are only available in limited quantities and others we only make if we receive a minimum amount of orders. Here we'll explain our policies about these types of products.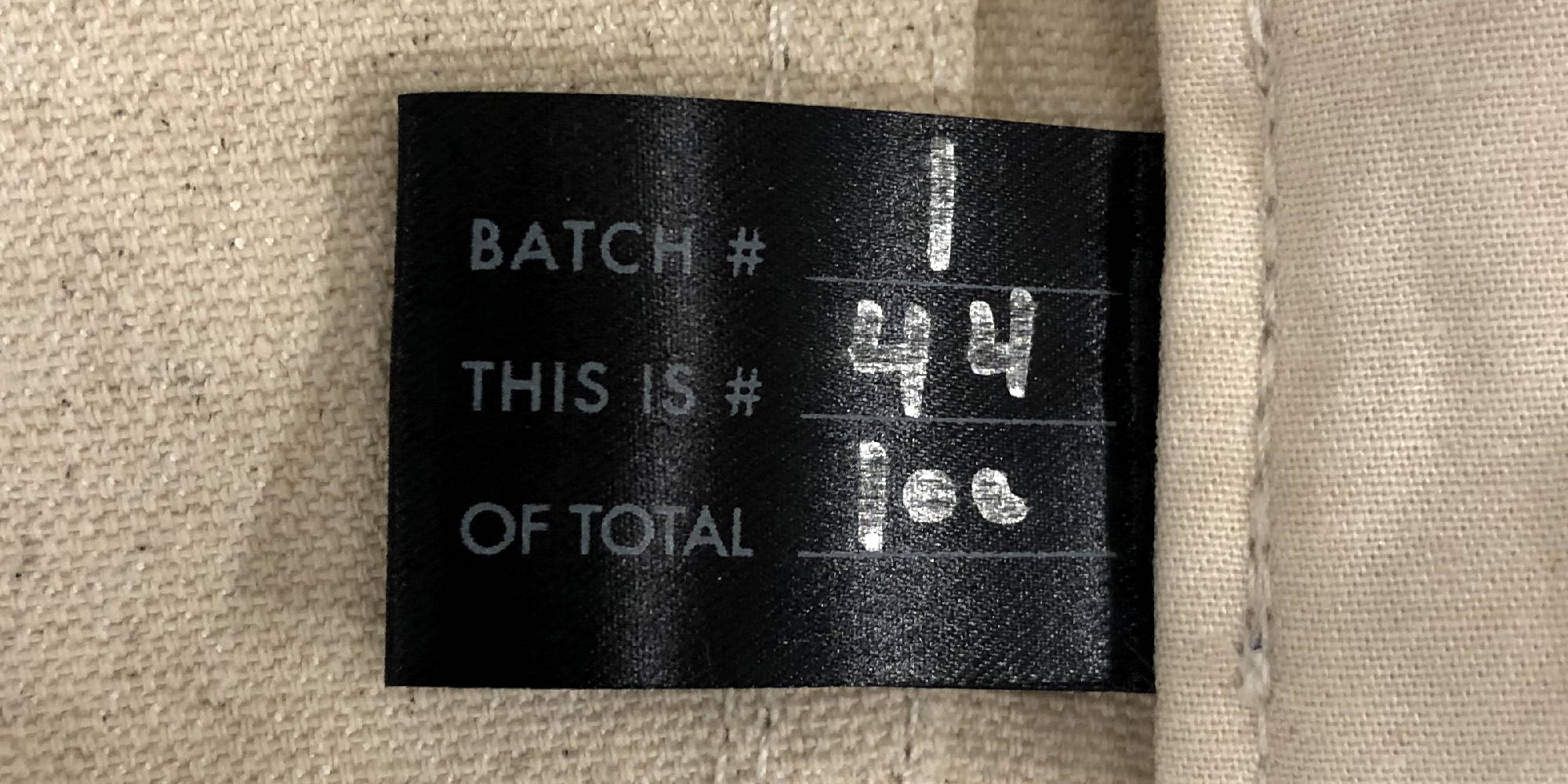 LIMITED EDTION
Limited Edition products are available in limited amounts because we are only able to offer a specific amount. Usually this relates to how much material is available for the product. This could be material we have on-hand, or it could be the only material available in the world due to a limited amount of it.
Limited Edition product terms of purchase
Limited Edition products are limited to a total amount made per batch. We use the word batch to mean a production run. We reserve the right to produce or not produce as many batches as are deemed appropriate to our business' demand.
Each item in a limited edition is hand marked with it's batch and it's number within the total amount of that edition. This label is what is pictured above.
Limited Edition products may or may not have existing stock when a customer purchases them. We may not have stock produced, at the time of purchase. This practice allows us to produce exact sizes needed per customer and eliminate waste in our production run.
We often use material that is available in a limited quantity. This is one reason a product might be marked as limited edition. We would rather produce the exact quantity in the exact sizes for all the customers who purchase the product, rather than have waste.
If an item is Limited Edition and does not have inventory already made, we show the target production date as well as the target delivery date on the product. Each product states its production timeline in its description. Customers will be charged at the time of purchase not at the time of delivery.
Once a purchase is placed on a limited edition item it cannot be canceled.
Once a purchase is placed on a limited edition item it can only be returned or exchanged once it is delivered. Please see our Shipping & Return Policy for more information.
Customers are welcome to return items due to size, no questions asked. Please see the Shipping & Returns section for more info.
If a Crowd-Choice item does not sell a minimum of 25 pieces, by the items deadline for purchases, we will cancel the production and refund all customers who purchased the item. Refunds will be credited to the original payment source.
Target Delivery Dates for Crowd-Choice and Limited Edition products
We do our best to calculate the production time of all our limited edition and Crowd-Choice products. The Target Delivery Date which is presented on the product page is not a guarantee. Production issues may occur which affect the timeline that are out of our control. We will do the best to deliver the product as close to stated production time as possible. We also commit to keeping our customers updated on any issues or delays which may occur. If you have any questions about an order or production time, please email info@strauss-malcolm.com.